Welcome and hi there! As a result of answering a lot of curious minds, and having a lot of fun with our customers at shows, we thought we'd continue to bring you an extension of rambling that you get from me at a show (you're so lucky! 😉 Our thoughts are to try to post something weekly or even bi-weekly so as not to overwhelm any of us (me especially!). On the other hand, if it's a really good week with lots of neat stuff to talk about, you might get more.
Besides, I love to try loads of different things, and share with my friends about new wines, new cheeses, and of course, share my excitement when I find an amazing color of granite or marble, fall into a great new find, and share just… "stuff" I think is interesting! So stay tuned and see how this goes!
To start us off, and let's be honest here – who doesn't like food?? As you can see, here's a great recipe that I just LOVE to have with my Pinot Griego, and since today is Sunday, this is just the ticket to share with friends on a lazy Sunday afternoon! This results in wanting more, and more, and…  The recipe/photo are from Tastebook (thank you, thank you, thank you)…
French Onion Soup Stuffed Mushrooms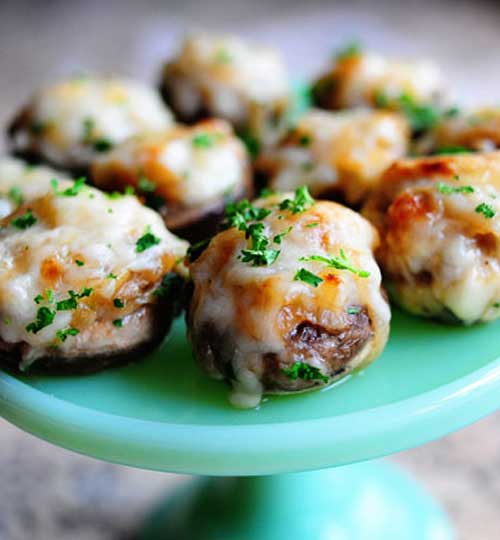 2 Tablespoons Butter
2 whole Large Onions, halved and sliced thin
1/4 cup Beef Broth
7 dashes Worcestershire Sauce
Splash of Red or White Wine
1/2 cup Grated Gruyere Cheese (can use Swiss)
Kosher Salt
24 whole White or Crimini Mushrooms, washed and stems removed
Minced Parsley
Instructions
In a medium skillet, melt 1 tablespoon butter over medium heat. Add onions and saute for 15 to 20 minutes, stirring occasionally, until very soft. Splash in wine, broth, and Worcestershire. Cook for another 5 minutes, or until liquid is cooked down. Set aside.
Melt 1 tablespoon butter in a large skillet over medium heat. Throw in mushrooms and toss around for 2 minutes, just to start the cooking process. Sprinkle mushrooms with salt.
Place mushroom caps face down in a baking dish. Heap cavity with sauteed onions, then sprinkle Gruyere over the top. Bake for 10 minutes on 325 degrees. Turn on broiler and broil for a couple of minutes, until the top of the Gruyere starts to bubble and slightly turn brown (oh googly moogly this is the truly good part).
Lastly, sprinkle minced parsley over the top and serve.
Feel free to tweak and add other goodies to these scrumptious bites like turkey sausage (we're trying to be healthier in our ahem, old age) or crab meat.
Toodles, until our next chit chat!